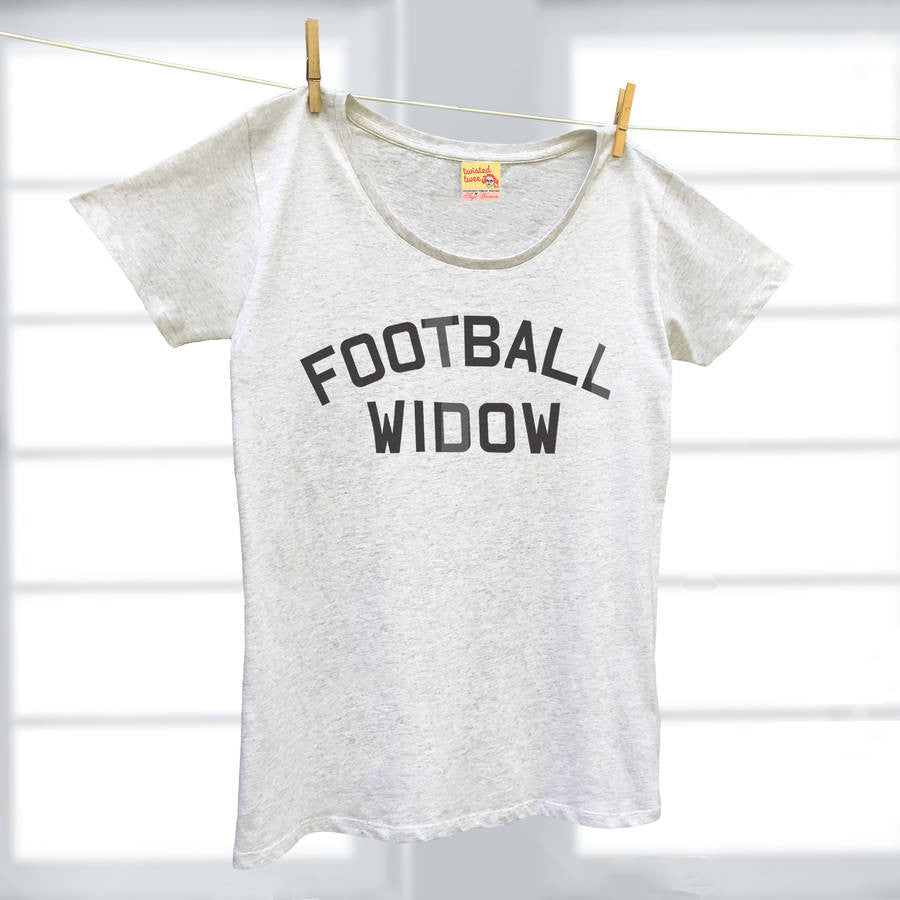 Football Widow organic cotton ladies t shirt
Regular price $33.00 Sale
Widow's weeds for those who's other half spends the season screaming at a pub TV wearing lucky pants. You have our sympathies. 
The text is hand printed onto light grey organic melange cotton t shirts in a soft black. The styling is comfortable and flattering with a generous neckline and contemporary shaping.
We are happy to write gift messages on request at no extra charge. 
if you suffer from the loss of a spouse or partner from any other sporting affliction, we would be happy to print a t shirt for you. Or maybe you are an IT widow or a tech widow. We cater for all those affected.
Twisted Twee clothing is made by a Fair Trade company that has won many awards for producing climate neutral, ethical and sustainably sourced products.
We love to see your photos, so if you upload images of this t shirt please remember to tag us @twistedtwee
WE CAN PRINT THIS DESIGN ONTO YOUR OWN CLOTHES
Of course you can buy this t shirt as a new garment, but we also offer the option of up-cycling your existing clothing. Just send us items you already own and let us give them a refresh with this design. We can print onto tops, skirts, trousers  jumpers, leggings and scarves providing they are predominantly cotton and the fabric is fairly smooth. 
The price is the same as for a new garment as it covers the cost of special tracked return postage.
So if you have a much loved but bedraggled fave, why not let our Clothing Hospital rejuvenate it and make it splendid again. Please just email suzi@twistedtwee.co.uk