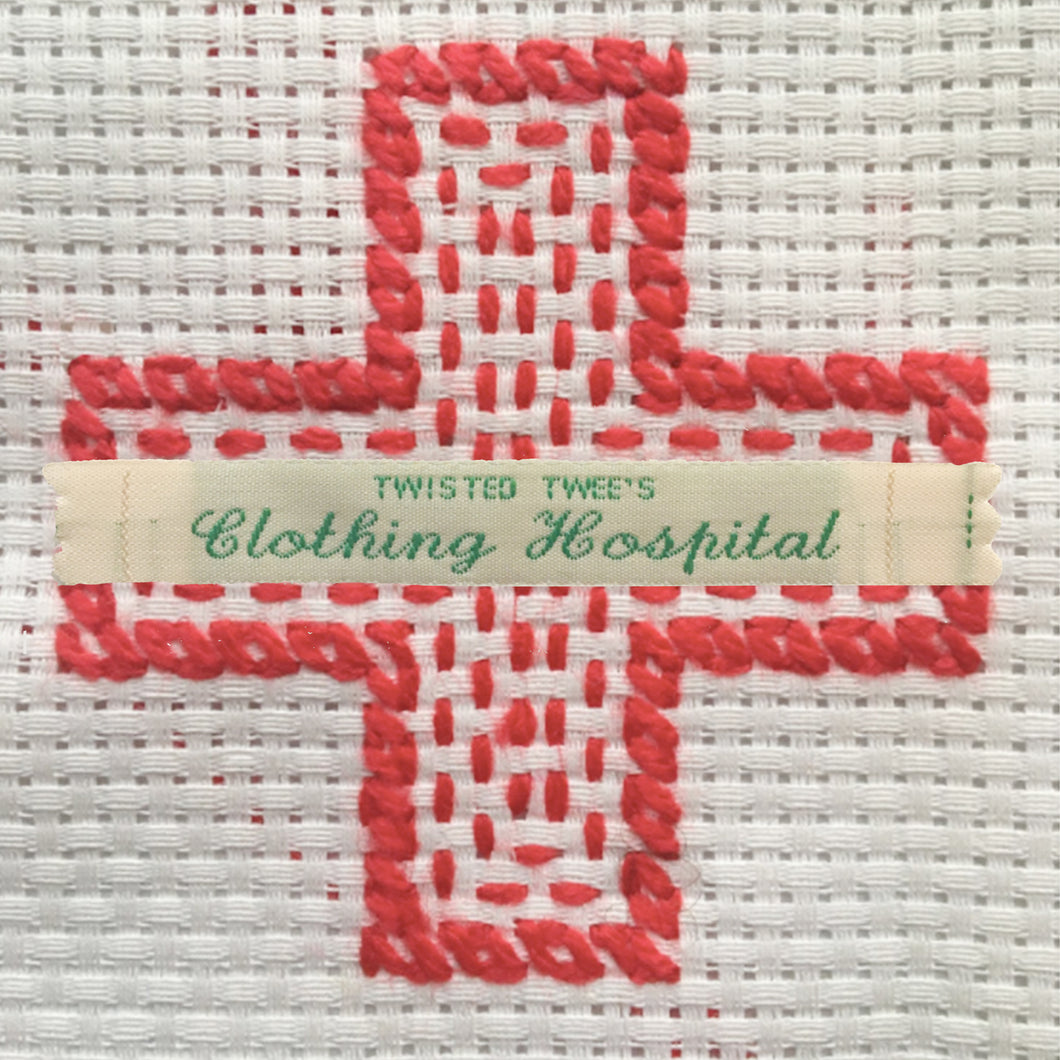 What is The Clothing Hospital
A drive to resuscitate and re-love the clothes we already have and resurrect them into unique, relevant, enjoyable and creative pieces.
This is the place to bring your much loved clothing that might have seen better days. We have hundreds of designs that we can print onto your old clothes to turn them into exciting new ones again. You'll find details on each product page.
We can also create bespoke designs to your specification. Take a look at some of the Human Billboard and Hag Range garb we've constructed to get a sense of the sort of thing we do to transform garments into bold beautiful pieces of self expression. 
If you'd rather not sent us your clothes and you live locally, we intend to host regular Clothing Hospital Surgeries in Camden where you can bring your clobber to be worked on while you quaff nosh and chat to other outpatients. Please follow us on IG on FB to find out the date of the next event.
For any queries please call Suzi on 07939257409 or email suzi@twistdtwee.co.uk
Sustainable manufacturing.
If you'd rather buy our clothes new, it's worth saying that since our launch in 2003 Twisted Twee have worked with the most ethical companies in the UK to manufacture our products through economically-sound processes that minimise negative environmental impacts while conserving energy and natural resources. We also make sure these companies have enhances employee, community, and product safety.
We are immensely proud that our garments are made by Continental Clothing Co. a UK manufacturer that has run a pro-active social responsibility programme as a member of Fair Wear Foundation since 2006.  Our fabrics are dyed with GOTS approved chemicals, in a zero-discharge dye-house  where all the water is recycled in a closed-loop system certified to OekoTex 100 Class I standards. 
Continental Clothing became the first company in the world to calculate the carbon footprint and place the Carbon Reduction Label on textile products. And having taken the greenhouse gas emissions to pre-industrial levels, all the products they make for s carry the registered mark "Climate Neutral".
To read in more detail about their many awards winning processes please click here. https://www.continentalclothing.com/about#fair-wear